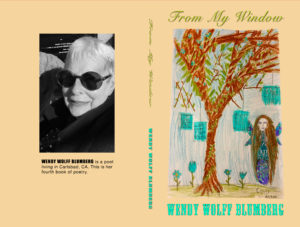 In this, Wendy Wolff Blumberg's fourth poetry collection, published by bobtimystic BOOKS, this gifted poet brings forth the wisdom of her 85 years. Ever more present with her inner world, able to more fully witness the wonders and intricacies of the world around her, Wendy's simple poems bring calm to the reader, while offering insights into what it means to have lived, and continue living authentically.
Included in this special collection is a section called, Encore, that reintroduces fans to poems found in previous, now out-of-print books. Finally, the publisher also included an entire section of Anniversary Poems, bringing readers into the intimate world of a couple who proudly and lovingly wear their 66 years of marriage.
Purchase on Amazon.com here.
***********************************************************************
Reflections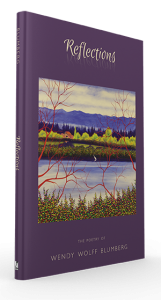 In this, Wendy Wolff Blumberg's third poetry collection, the reader will clearly recognize the one unifying element that connects all of her poems: that of the human experience. Daring to go places within to express universal themes of love, loss, beauty, and connection with God, Blumberg's poems continue to transform a simple moment into a divine act of glory. With Reflections, Blumberg invites her readers to experience, for the briefest of moments, the kind of prayerful opening that perhaps may, as those who believe in the power of prayer know, facilitate planetary healing. From "The Innocents":
I open wide
A special door
To a special room
In my heart
For children I do not know
But whom I love
Children abused
Abandoned
Ones made to
Disappear
Children caught
In war
Innocents maimed
Innocents dying
Bless their souls
Oh bless them
They are like a field
Of flowers
Scattered in the wind
Some survive
To grow again
Others never return
Leaving their presence
Their beauty
To remain in my
Mind
Live in my heart
Never
To forget them
Within these poems lives a spiritual maturity that provides an opportunity to know what it might be like to experience inner peace. Thriving in her eighth decade of life now, Blumberg has achieved her place amongst the most celebrated spiritual poets.
***********************************************************************
Poets are the Bravest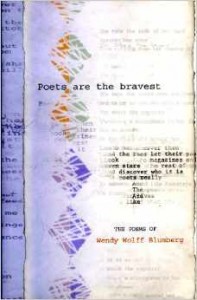 This out-of-print collection, published in 2001, lyrically presents a range of the poet's life experiences—from early childhood joys and sorrows, to the intricacies of married life; from the mysteries gleaned watching a rising moon, to the sorrows inherent in war. Blumberg's poems are written from the heart, and expressed with clarity, hope, and a definite leaning towards the divine. Many of the poems found in Poets are the Bravest have been reprinted for Reflections.
Thunder from the Mountains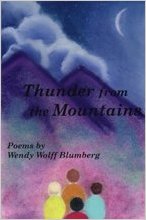 This is Blumberg's second poetry volume, where she examines friendship, marriage, and other personal and touching themes that connect readers to their own hearts and souls. She finishes the volume with a powerful section of poetry for peace.
*may be purchased through Amazon.com